Listen all Calls of your Girlfriend Phone without any Application and without Touching her Phone .
It could be a red alert sign that he is having an affair with another woman. With this spy app, you will know if something is fishy in your relationship. Some of these reasons are;. Sometimes, people often overreact when their partners keep secrets from them. They will think that their husband is having an affair that is the reason they are keeping secret. While this is possible, it is not always the case. However, when you track his text message, you will be able to clear your doubt and have confidence in the relationship.
Trust me, this software has saved many marriages. You will be able to know when there is a distraction.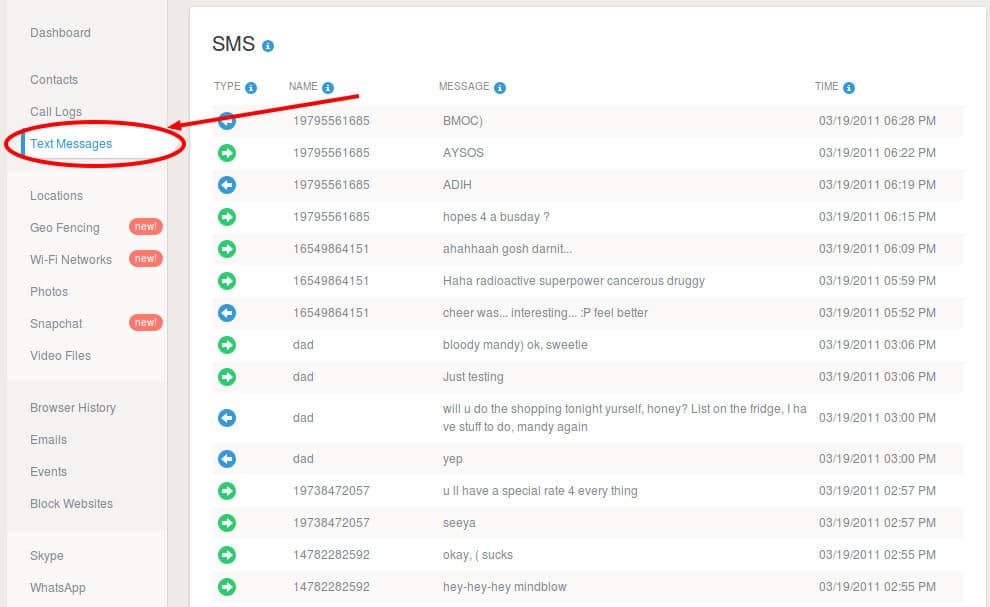 In fact, with the live streaming feature on this software, you will have details of the person who has been testing your husband and take proactive measures to nip any potential affair in the bud. You can access the call records and also see the direct messages sent on Instagram.
Consider checking out the Spyic live demo here. With the help of the Spyic solution, you can spy on and track her internal activities very closely.
Spyic is a very advanced mobile tracker app by which you can track the location of your wife in real time too. There might be instances when you might like to track the GPS location of your wife. Spyic can provide you with the GPS coordinates of the place the target is located at. You can also see the timestamps associated with each location.
How to Remotely Track My Husband's Text Message
This allows one to see when the target has been to which place. Spyic allows you to see both the present and past location information. It is super easy to use the Spyic app. There are both Android and iOS versions available. On the Android OS, you will need to install the Spyic app. On the other hand, the Spyic iOS solution needs no installation at all. Step 1. First, create a Spyic account. It is a simple process and will only take a few minutes at the most. Step 2. You do not even need physical access to the phone. If the target device is Android, download and install the Spyic Android app.
Part 2: How to Spy on Wife's Phone
Step 3. Log in to your account on the Control Panel. You will now see your dashboard. Step 4. Now you can start spying your wife. You can access and track all details like media, installed apps, text details, call details, and chat details on your dashboard. We saw the various features and functions of the Spyic app in the previous section.
What to do When Your Spouse is Spying on You
In this section, we will know more about the Cocospy app. The app is an extremely powerful spy and monitoring solution. Why not see the app in action by looking at its demo? Cocospy is trusted by millions of customers from more than countries around the world. Cocospy comes in both Android and iOS versions. It is a no rooting and jailbreaking solution. You might have seen lots of spy apps but most of them will require you to either root the target Android phone or jailbreak iOS.
This complicates the process and makes it difficult to install and use the app. Cocospy removes all hurdles out of the way and is extremely user-friendly. We recommend the Cocospy app which is among the most reputed companies in this field. Other than that, TTSPY provides customer services that can assist the user in all the difficulties without creating any panic. In case of a text message, you will attain immediate access to all the messages on your phone. You can read them secretly. You can even access multimedia attached to the messages.
3 Ways to Catch Your Cheating Spouse - wikiHow!
whatsapp spy tk?
Part 1: How to Track My Wife's Phone Without Her Knowing;
Here are 5 ways to track husband's mobile phone without them knowing;
my mobile spyware?
mobile spy free download windows 10 sp2 x64 torrent?
Another feature is quick installation as the installation requires a few minutes hardly. There are no charges for the services, therefore, this application is absolutely inexpensive. Most importantly, this application is undetectable which means proper stealth provision. The software is absolutely in stealth mode and helps you in accessing all the text messages.
Is my spouse spying on me?
The procedure is simple and extremely quick. In this way, you can install the application in a few minutes. Initially, you have to physically access the targeted phone. Other than that, there is no need for the Jailbreaker in case of iPhone. Table of Contents.